OUTDO VRLA BATTERY
For over 23 years OUTDO BATTERY has been manufacturing superior AGM and GEL type batteries which are exported and sold around the world. These batteries are mainly used in telecom cellular base sites, telecom equipment central offices, telecom equipment street cabinets, uninterruptible power supply (UPS), and other standby power supply applications.
OUTDO Lithium Battery Series
The unceasing advancements in energy storage and the lowering of cost for renewable energy catapult various industries to search for more efficient ways on how to incorporate these developments into their business operations. One of the popular innovations is Lithium Iron Phosphate (LiFePO4) battery, a low maintenance rechargeable battery that can deliver supreme back-up power.
OUTDO Energy Storage GEL Series
A surge in demand for clean and sustainable energy while maintaining economical operations may be attributed to the current pressure from non-profit organisations, local citizens, local and national governments, and private business institutions. This call to action is the outcome of harsh experiences from and legitimate evidences of climate change. Besides the environmental aspect, to have a cost-effective operations is a term less goal by companies.
HAZE VRLA BATTERY
For over 30 years Haze Battery has been manufacturing sealed lead acid and gel batteries to the market, and those years of experience provided the company an in-depth perspective and extensive experience on providing high-caliber products to the market.
VRLA- AGM Series
VRLA- GEL Series
OUTLAST AUTOMOTIVE BATTERY
For over 40 years Outlast has been serving batteries to the local automotive market and it continues to live its legacy. Its products are made from high-quality imported materials and with its own research and development centre, Outlast is able to sustain the ever moving demand for reliable automotive batteries in the Philippines.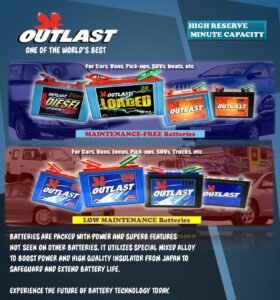 WESTLAKE TIRES
For over sixty (60) years Westlake has tirelessly manufactured and supplied world- class quality tires to customers from all around the globe. As proof that Westlake is of premium quality, it has been included in 2020's Top 15 Tire Manufacturers in the world.
Related Resources
Choose by Products or call Equilast Inc. at . (02) 8357-7857; (02) 8526-6143; (02) 8285-9929; (02) 8661-8087