OUTDO VRLA BATTERY
For over 23 years OUTDO BATTERY has been manufacturing superior AGM and GEL type batteries which are exported and sold around the world. These batteries are mainly used in telecom cellular base sites, telecom equipment central offices, telecom equipment street cabinets, uninterruptible power supply (UPS), and other standby power supply applications.
OUTDO Lithium Battery Series
The unceasing advancements in energy storage and the lowering of cost for renewable energy catapult various industries to search for more efficient ways on how to incorporate these developments into their business operations. One of the popular innovations is Lithium Iron Phosphate (LiFePO4) battery, a low maintenance rechargeable battery that can deliver supreme back-up power.
OUTDO Energy Storage GEL Series
A surge in demand for clean and sustainable energy while maintaining economical operations may be attributed to the current pressure from non-profit organisations, local citizens, local and national governments, and private business institutions. This call to action is the outcome of harsh experiences from and legitimate evidences of climate change. Besides the environmental aspect, to have a cost-effective operations is a term less goal by companies.
HAZE VRLA BATTERY
For over 30 years Haze Battery has been manufacturing sealed lead acid and gel batteries to the market, and those years of experience provided the company an in-depth perspective and extensive experience on providing high-caliber products to the market.
VRLA- AGM Series
VRLA- GEL Series
OUTLAST AUTOMOTIVE BATTERY
For over 40 years Outlast has been serving batteries to the local automotive market and it continues to live its legacy. Its products are made from high-quality imported materials and with its own research and development centre, Outlast is able to sustain the ever moving demand for reliable automotive batteries in the Philippines.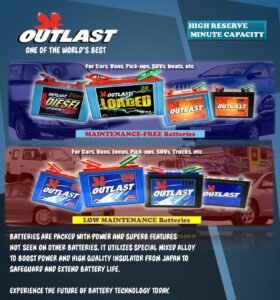 TEKNOL UPS Series
To reinforce our core business EQUILAST developed its own brand of uninterruptible power supply (UPS), which we named TEKNOL. Our TEKNOL UPS products serve the low capacity UPS requirements of companies from various major local industries in the Philippines. Its product line is a high quality, globally-capable to compete in the international market. TEKNOL UPS is our commitment to empowering your business.
INVT UPS Series
Ever since its integration on 2002 INVT has committed itself to providing advance and supreme back up power and technology equipment, and exceptional service to the market. Its power solutions offering cover a wide range of the world of advance technology, from IT, to network power, and to rail transit. The experience acquired by the company from this spectrum of business establishes INVT's steadfast position in the power solutions industry.
BU Series Offline UPS
HT11 Series Tower Online UPS
Related Resources
Choose by Products or call Equilast Inc. at . (02) 8357-7857; (02) 8526-6143; (02) 8285-9929; (02) 8661-8087